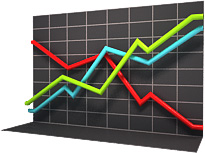 Phoromatic is a remote management system for the
Phoronix Test Suite
. Phoromatic allows the automatic (hence the name Phoro
matic
) scheduling of tests, remote installation of new tests, and the management of multiple test systems all through an intuitive, easy-to-use web interface. Tests can be scheduled to automatically run on a routine basis across multiple test systems. The test results are then available from this central, secure location.
Phoromatic is able to communicate with any system running Phoronix Test Suite 4.8 or newer whether it be running Linux, Mac OS X, BSD, or OpenSolaris. Creating a single-user account at
Phoromatic.com
is free, easy, and can then connect to one or even dozens of test systems running the Phoronix Test Suite. Phoromatic can also be installed on a LAN / intranet for professional and enterprise support customers of the Phoronix Test Suite.
Two reference implementations of Phoromatic Tracker, an extension of Phoromatic designed for tracking and analyzing the performance of software components over the course of time, can be found at
ubuntu-tracker.phoromatic.com
and
kernel-tracker.phoromatic.com
that monitor the performance daily of Ubuntu development snapshots and the Linux kernel, respectively.
---

Automated Scheduling
Whether it be every evening at 6:00PM, once every Thursday at 10:00AM or somewhere in between, Phoromatic can schedule tests to be run at user-defined intervals. The testing schedules can be updated through Phoromatic web interface. After the test(s) have run, the results will be immediately uploaded to Phoromatic.

Extensible
Any test profile or test suite that is compliant with the Phoronix Test Suite specification will work with Phoromatic. Phoromatic is able to leverage the 120+ test profiles and dozens of test suites currently in the Phoronix Test Suite, along with any custom or proprietary test profiles you or your company utilize. Additionally, the Phoromatic interface allows the user to construct their own test suite(s).

Remote Testing
Once the test system is setup, all testing and management of that system can be done remotely. There is no need to excute Phoronix Test Suite commands locally using the GUI or command line version, but instead nearly all of the same features are accessible from the Phoromatic interface.

Multi-System Support
A single Phoromatic account is able to manage multiple test systems running the Phoronix Test Suite. Phoromatic supports grouping together test systems, tagging, and other features to support effectively managing many test systems. From the Phoromatic interface, installed system hardware and software from a given system can also be viewed.

Turn-Key Deployment
No additional software needs to be installed to support Phoromatic; all that's needed is Phoronix Test Suite 4.8 (Phoromatic was introduced with Phoronix Test Suite 2.0 but later Phoromatic updates have dropped PTS2/PTS3 compatibility) or later. New test systems can easily be synced with a given Phoromatic account by running a single command from the Phoronix Test Suite client.

Result Management
Test results are automatically uploaded to the Phoromatic account and remain private unless you opt to upload them to
Phoronix Global
. From the Phoromatic interface, results from multiple test systems can easily be compared and multiple results from the same systems can be used to track performance over time. There are also options to look at the statistical significance of the results and other features to efficienctly and effectively analyze the system's performance.